Gibson named AD of the year for MHSAA Classes 1 - 3A
by Drew Kerekes / January 11, 2019
The Meridian Star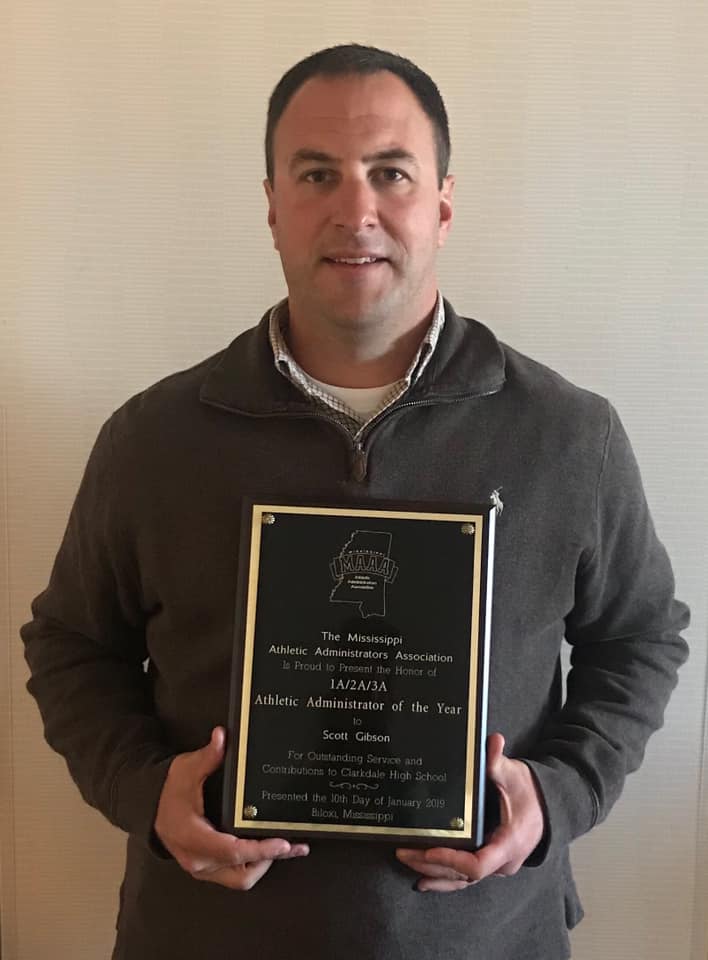 Clarkdale athletic director and baseball coach Scott Gibson was recognized Thursday, January 10, as
Classes 1 - 3A Athletic Director of the Year at the Mississippi Athletic Administrators Association conference in Biloxi. the MSHAA
Gibson, a Clarkdale alumnus who will have coached the baseball team for 11 years as of this spring and is in his sixth year as the school's AD, said he found out around Christmas he would be receiving the honor.
"It's very humbling, because I know there are a lot more worthy AD's out there," Gibson said. "It's just a big honor."
Ken Hardy, Clarkdale's principal, said the recognition validates the school's athletic program and couldn't have gone to a more deserving AD.
"We've consistently posted great academic results, and we hope we can carry that success over to the athletic side," Hardy said. "We've had pockets of success with softball and individually with sports like track and tennis, and on the whole we're on the right track and getting better."
In addition to his duties as the school's head baseball coach, Gibson's AD duties include clerical work such as determining academic eligibility and confirming physicals, parental consent, concussion protocols, insurance and game administration, scheduling and arrangements for officiating. It's a lot on his plate, but Gibson said six years in, he's become accustomed to the responsibilities.
"You get used to the tasks and things you do, but every now and then something new pops up, and you lean on those around you for help," Gibson said.
In fact, this award is just as much for those around him as it is for himself, Gibson added.
"It lets you know your getting something right, but it's more than me," Gibson said. "It's really an award for the whole school and athletic program. I lean on others, and we have great administrators and great kids here."
Hardy said he's glad someone like Gibson is getting recognition.
"He graduated from here in 1998 and me in '99, so I've known him for 20 years," Hardy explained. "what you immediately pick up on how hard he works. Anything he's in charge of has gotten better. He's a great guy to have around. He's smart, and not just about sports, but about people,. He's the type of leader, coach, and teacher we need more of."