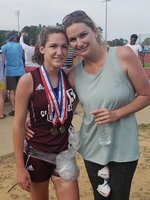 Brooke Robinson - State Champion!
Brooke Robinson continues to excel! She recently won the 2A State Track Championship in the 1600 meter run, outrunning her nearest competitor by 90 meters. Brooke also competed in the 800 meter run and took the Gold in that event as well.
Congratulations, Brooke! We are proud of your accomplishments and bringing home two GOLD medals to Clarkdale!